Congratulations Mrs. Patin! The Zachary Wal Mart has awarded her a $1000.00 grant for her classroom.
Beta Students are offering free after school tutoring Tuesdays until 3:20.
Congratulations Gold Plus Recipients & Teacher Perfect Attendance!

The state winners of the 2017-2018 Letters about Literature received their award at the 2018 Book Festival on Saturday, November 10, 2018.
Thumbs Up to Beta
What a day we had Saturday for Beta District Day! Fifty NMS Betas went to Copper Mill Elementary to compete in various events or volunteer to help the host school with housekeeping: selling concessions, stacking chairs, directing participants where to go, and sweeping the floors (to name a few of their innumerable tasks)!
NMS came home with FOUR second place plaques: Book Battle, Living Literature, Robotics, and Songfest! We have amazing kiddos and proud (but exhausted) sponsors!
 
Congratulations District Honor Choir Students!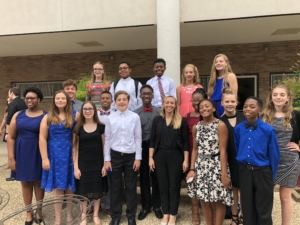 Join NMS Remind for news from the principal's office.

Parents, please go to Facebook and search Northwestern Middle School PTO for information about PTO
 Where does PTO money go? Our money stays in our school, NMS - For Our Kids!
Parents, students are unable to open social networking sites at school. These types of sites are blocked by our network filters.
Curriculum LDOE Guidebooks My Perspectives Eureka Math Ten Marks Supplemental Resources ELA Scope Magazine